Tours - Excursions - Events
Congresses - Transfers
City tour, tours in the City of Buenos Aires
Tours in Tigre
Fiesta del Gaucho and Day trip to the countryside
Dinner Tango Show
A day at Temaikén
A visit to the Luján Zoo
Football matches - Shows and Theaters

Information and
reservation center
(011) 5263-0946
From abroad:
(+5411) 5263-0946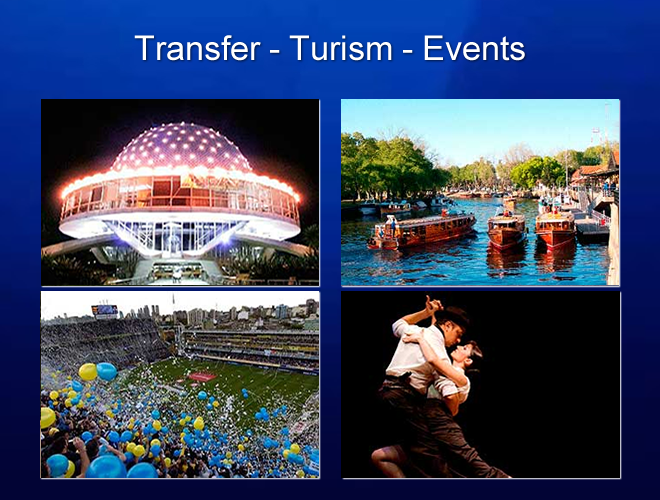 • Tours in the City of Buenos Aires
• Tours in Tigre
• Fiesta del Gaucho and Day trip to the countryside
• Dinner Tango Show
• A day at Temaikén
• A visit to the Luján Zoo
• Football matches - Shows and Theaters

Find us in Whatsapp
Monday/Friday 10am - 6pm
+54911 7364 0218
Send us an email to: info@transferlubre.com.ar
transferlubre@live.com.ar
Tourism and excursions
Tours and activities in the City of Buenos Aires
We offer a variety of tours around our City; you can choose our classic and carefully planned itinerary for 4, 6 and 8 hours or you can craft your own itinerary based on your wishes and interests and we will make it happen! Tours can be individual or in group. You get to decide where you want to stop and the time you want to spend there. We will provide high-quality guidance!



The must-see spots in the City of Buenos Aires are:
La Boca neighborhood, the traditional walk along the streets of Caminito and the legendary stadium "La Bombonera".
Plaza de Mayo, the Casa de Gobierno, the Cabildo, the historical Avenida de Mayo and the National Congress.
Puerto Madero and its international world class restaurants, modern buildings and shoppings, and the impressive Puente de la Mujer.
Recoleta neighborhood, its handicraft market and the famous cemetery where the grave of Eva Perón can be found.
Palermo neighborhood and its astonishing lakes and woods, its discount stores and the design and clothing shops along with the countless restaurants and bars.
San Telmo neighborhood with its traditional porteño bars, colonial architecture and the biggest antique fair in the City.
We will also take you to walk down Avenida Corrientes with its theaters and shows, the pedestrian Florida, visit historical museums, shopping tours, discover Buenos Aires nightlife and take you all the places that will make your visit to the City a memorable experience.


Tours and activities in Tigre

Located just 35 kms away from Buenos Aires, this beautiful neighborhood can be found, where we will take you to the Puerto de Frutos. In this open-air shopping center we will visit the craft fairs and the regional cuisine, walk along the picturesque riverside with its typical restaurants, the amusement park "Parque de la Costa" and the Trilenium Casino. You will also be able to enjoy a ride on board a catamaran through the Delta del Tigre river, discover the different islands as you glide along this wonderful town, an ideal place to visit with the family or your significant other, as there are plenty and varied options. 



Fiesta del Gaucho and a day trip to the countryside
You will spend an unforgettable day in a ranch in the countryside where you will have some delicious Argentine asado prepared by real gauchos from the region, take horseback and sulky rides, watch a taming and folk show and all typical activities that reveal the charm of the Argentine's countryside, its landscapes, crops and the incomparable scent of nature.



A day at Temaiken
With its wide variety of animals, along with the aquarium and modern interactive audiovisual centers, flora and fauna conservation and research projects, this incredible biopark shares with its visitors their knowledge about plants and animals and their relationship with human beings, our story and environment. This is surely an unforgettable activity.



Luján Zoo

One of the few zoos in the world where you can interact with the animals, touch them, hold them and take pictures with them; in this zoo the animals are raised with humans and live with them for the rest of their lives: this is achieved through a long adaptation process which makes this place unique. Don't miss this memorable experience for visitors of all ages.



Dinner and Tango Show

Be a part of over 100 years of porteño history. Tango shows in Buenos Aires are set just like the old tango dance rooms. These shows, with over 40 performance artists, including two typical orchestras, dancers and a folk band, offer a unique and unforgettable experience; not only will you be able to take a tango lesson but also enjoy the local cuisine.



Stadiums
Live the passion that only Argentine football can offer you! We will take you to see a wonderful and unique spectacle in the world, both in "La Bombonera", the mythical Boca Juniors football stadium and in River Plate's stadium, watch any match you want from the Argentine National Team, as we have all kinds of tickets and transfers for you to feel like a real Argentine football fan.